UG-150-II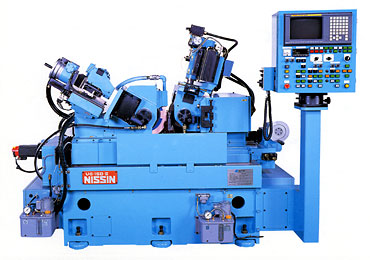 Product features
1. Using original element technologies, ultra precision grinding below 0.1µm accuracies is realized. Small type machine for future
 generation.
2. Fixed workcenterline structure enables easy setup change and simple application of loading and unloading devices.
3. DMD Traverse Rotary Dresser (Option) achieves accurate wheel surface.
Mechanical specifications
You can scroll by flicking.
Capacity
Work Diameter
~Φ10mm
Max. Infeed Length
148mm
GW
Dimensions
Φ355×150×Φ177.8mm
Surface Speed
2,700m/min(2,420r/min)
Motor Capacity
3.7kW
Bearings
Stationary Spindle(Hydrostatic Oil Bearing)

RW
Dimensions
Φ205×150×Φ101.6mm
RPM
~300r/min(60Hz)
Motor Capacity
0.5kW
Bearings
Stationary Spindle(Hydrostatic Oil Bearing)

GW Dresser
Method
Traverse Rotary

Traverse
AC servo motor
Infeed
AC servo motor
RW Dresser
Method
Point Traverse
Traverse
AC servo motor
Infeed
AC servo motor
Infeed Mechanism
Infeed Mechanism
Hydrostatic Guideway(V-V)

Drive Method
AC servo motor

Minimum Setting Unit
0.1μm
RW Table Slide
Hydrostatic Guideway

Drive Method
Micro Handle

Minimum Setting Unit
0.02mm/div
Weight
3,200kg