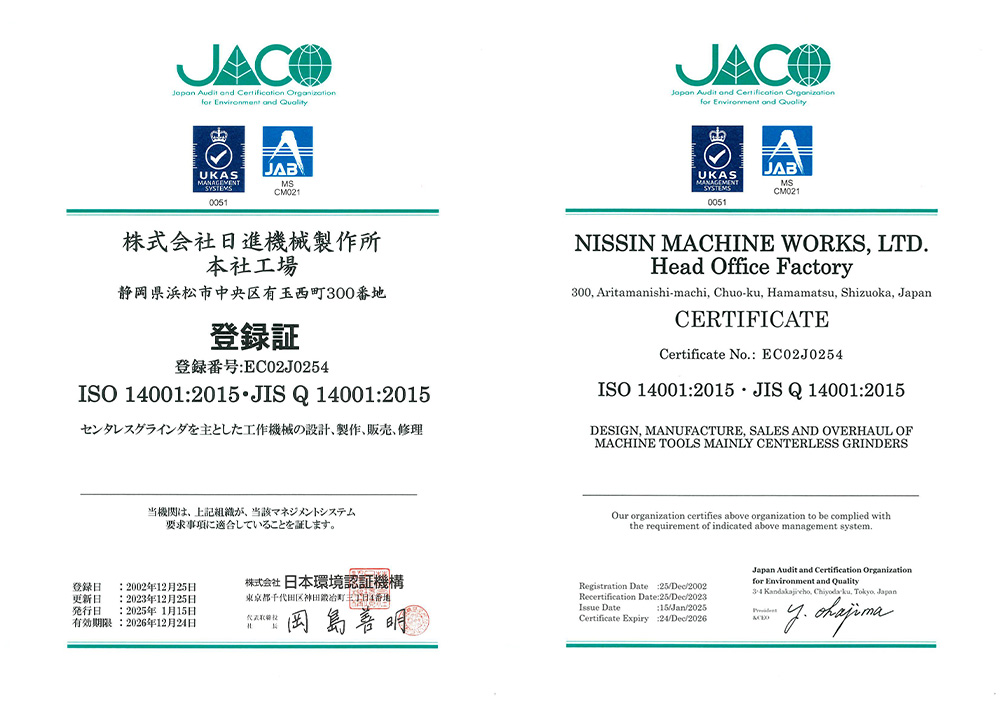 Environmental Policy
NISSIN MACHINE WORKS,LTD.
engages in environmental management activities under the following slogans.
" Give back to the kind planet earth by Environmental- friendly Manufacturing."
" Think about Natural Environment for better future."
We operate as a headquarters plant that manufactures Centerless Grinding Machine, which are familiar as " NISSIN of Centerless," in the blessings of the rich nature surrounded by the Mikatagahara Plateau and Tenryu River.
Recognizing the impact of activities on prefectural borders and external, internal, and stockholders' requirements and efforts to address risks and opportunities, we will establish environmental targets to the extent technically and economically possible, promote the prevention of environmental pollution and the use of sustainable resources, and continuously improve our environmental management system.
We will comply with laws and regulations related to environmental aspects and other requirements agreed upon by the Factory, as well as conduct maintenance and management.
Among the impacts of our business activities, we will conduct environmental management activities focusing on the following items and conduct periodic reviews.
(1) Shorten lead times for products provided to customers and improve production efficiency.
(2) We will promote environmental contribution activities by improving productivity and quality while designing and selling products in response to customer requirements.
We will enhance our environmental education, and all employees (everyone working for us) will understand our environmental policy and work together with all employees.
--- We disclose our environmental policy both inside and outside the company.---
Established April 1, 2019