HI-GRIND200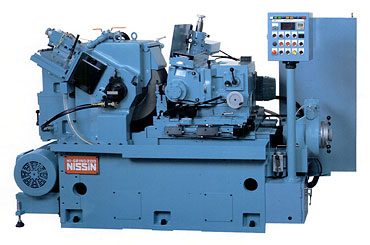 Product features
1. For grinding wheel side, stationary spindle structure with high rigidity and accuracy is applied.
2. Using both support stationary spindle structure, 510Փx205x228.6Փ wheel is used in a small floor space.
3. Hydrostatic guide way is used for infeed and compensation slide and keeps accurate compensation for a long period.
4. Various optional devices, CNC dresser, Rotary dresser, CNC infeed device, are available.
Mechanical specifications
You can scroll by flicking.
Capacity
Work Diameter
~Φ40mm

GW
Dimensions
Փ510x205xՓ228.6mm

Surface Speed
2,700m/min

Motor Capacity
11kW(4P)

Bearings
Stationary Spindle(Hydrostatic Oil Bearing)
RW
Dimensions
Φ255×205×Φ127mm

RPM
18~200r/min(60Hz)

Motor Capacity
0.75kW(4/8P)

Bearings
Hydrostatic Oil Bearing
Tilt angle
+5°~ -3°

GW Dresser
Traverse
Hydraulic Cylinder
Infeed
Micro Handle(0.02mm/div)
RW Dresser
Traverse
Hydraulic Cylinder
Infeed
Micro Handle(0.02mm/div)
Infeed Mechanism
Method
Ball Screw and Hydrostatic Guideway
Minimum Setting Unit
0.5µm/push(Variable)
Weight
4,000kg