HI-GRIND4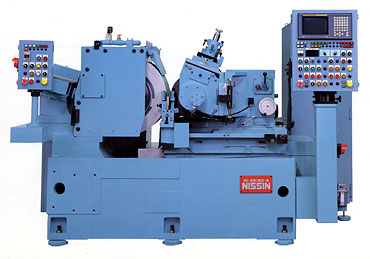 Product features
1. Wide wheel machine for infeed grinding of long shaft with steps and efficient thrufeed grinding of middle size work.
2. Grinding wheel spindle is one side support and regulating wheel spindle is both sides support with hydrostatic bearings.
 a)Wide wheel (405mm) enlarges the range of centerless grinding.
 b)Large but compact machine by combination of mechanical and electrical components.
 c)Convenient operation, quick change over time and efficient automatic operation by easy setting of loading and unloading devices.
Mechanical specifications
You can scroll by flicking.
Capacity
Work Diameter
Φ1mm~Φ125mm

Max. Infeed Length
405mm

GW
Dimensions
Φ610×405×Φ304.8mm

Surface Speed
2,700m/min

Motor Capacity
30kW

Bearings
Hydrostatic oil Bearing
RW
Dimensions
Φ355×405×Φ203.2mm

RPM
1~250r/min(60Hz)

Motor Capacity
3.5kW(Servo Motor)

Bearings
Hydrostatic oil Bearing
GW Dresser
Traverse
AC Servo Drive

Infeed
AC Servo Drive

RW Dresser
Traverse
Hydraulic Cylinder

Infeed
Micro Handle(0.02mm/div)

Infeed Mechanism
Sliding
V-flat plain Guideway

Drive Method
AC Servo Drive

Minimum Setting Unit
0.1μm

Weight
6,500kg