HI-GRIND2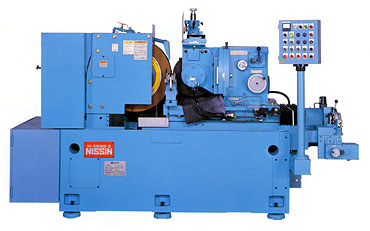 Product features
1. Both Spindles are supported by Hydrostatic Bearings, and Hydrostatic guideway is applied to RW Iower slide:
 Most reliable centerless grinder.
2. You have option for size compensation unit, Fine compensation unit with easy operation or CNC type RW table infeed/
 compensation unit.
3. Hydrostatic Bearings offer advantages as follows;
 a)No frictional drag
 b)No friction and low temperature rise
 c)Constant rotating accuracy
 d)High film stiffness independent on the number of rotation.
4. Hydrostatic guideway application gives precise and fine feed/compensation for both directions.
Mechanical specifications
You can scroll by flicking.
Capacity
Work Diameter
Φ2mm~Φ100mm

Max. Infeed Length
200mm(※250mm) ※OPTION
GW
Dimensions
Φ610×205(※255)×Φ304.8mm ※OPTION

Surface Speed
2,700m/min

Motor Capacity
15kW(※22kW) ※OPTION
Bearings
Hydrostatic oil Bearing
RW
Dimensions
Φ355×205(※255)×Φ177.8mm ※OPTION

RPM
18~200r/min(60Hz)

Motor Capacity
0.75kW

Bearings
Hydrostatic oil Bearing
GW Dresser
Traverse
Hydraulic Cylinder
Infeed
Micro Handle(0.02mm/div)
RW Dresser
Traverse
Hydraulic Cylinder
Infeed
Micro Handle(0.02mm/div)
Infeed Mechanism
RW Table Slide
Hydrostatic Guideway

Drive Method
Motor Drive(*Special Type.)
Minimum Setting Unit
0.5μm
Weight
5,500kg