HI-GRIND2-III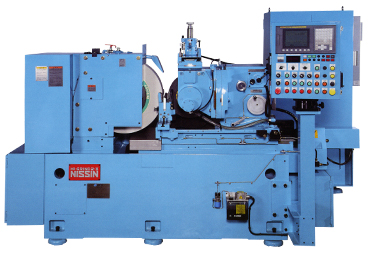 Product features
1. Both spindles are supported by Hydrostatic Bearings, and V & flat slide with experienced scraping technology and turcite coating is
 applied to RW lower slide.
2. CNC servo motor, which is standard accessories, is applied to RW lower slide drive for easier operation for size compensation.
3. Cost-effective machine with high accuracies, high efficiency.
 a)Hydrostatic Bearings, applied to both wheel head, offer advantages; no abrasion , high oil film stiffness independent on the number
    of rotation and precise & constant rotating accuracy.
 b)V & flat slide realizes fine forward, backward compensation.
Mechanical specifications
You can scroll by flicking.
Capacity
Work Diameter
Φ2mm~Φ100mm

Max. Infeed Length
200mm(※250mm) ※OPTION

GW
Dimensions
Φ610×205(※255)×Φ304.8mm ※OPTION
Surface Speed
2,700m/min

Motor Capacity
15kW(※22kW) ※OPTION

Bearings
Hydrostatic Oil Bearings

RW
Dimensions
Φ355×205(※255mm)×Φ177.8mm ※OPTION

RPM
18~200r/min(60Hz)

Motor Capacity
0.75kW

Bearings
Hydrostatic Oil Bearings

GW Dresser
Traverse Drive
Hydraulic Cylinder

Infeed Drive
Micro Handle(0.02mm/div)

RW Dresser
Traverse Drive
Hydraulic Cylinder

Infeed Drive
Micro Handle(0.02mm/div)

RW Table
RW Lower slide
V & Flat Slide With Turcite Coating

Drive Method
AC servo motor

Minimum Setting Unit
0.1μm

Weight
5,500kg