HI-GRIND1-D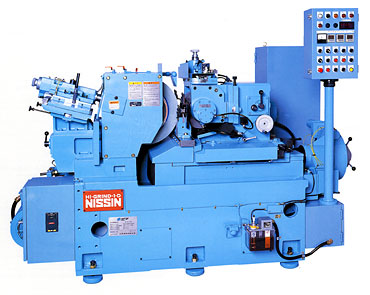 Product features
1. Reliable centerless grinder with fully applied hydrostatic bearing on both wheel spindles and regulating wheel table guide ways.
2. Fine compensation device with easy operation is equipped as a standard feature.
 a)Hydrostatic bearings have no abration and keep very rigid and accurate rotation for a long period.
 b)Hydrostatic guide ways enable fine and accurate forward and backward compensation.
Mechanical specifications
You can scroll by flicking.
Capacity
Work Diameter
~Φ75mm

Max. Infeed Length
148mm

GW
Dimensions
Φ455×150×Φ228.6mm

Surface Speed
2,700m/min

Motor Capacity
7.5kW
Bearings
Hydrostatic Bearing
RW
Dimensions
Φ255×150×Φ127mm

RPM
18~236r/min(60Hz)

Motor Capacity
0.4kW

Bearings
Hydrostatic Bearing
GW Dresser
Traverse
Hydraulic Cylinder

Infeed
Micro Handle(0.02mm/div)

RW Dresser
Traverse
Hydraulic Cylinder

Infeed
Micro Handle(0.02mm/div)

Infeed Mechanism
Sliding
Hydrostatic Guideway

Drive Method
Motor Drive

Minimum Setting Unit
0.5μm
Weight
3,600kg